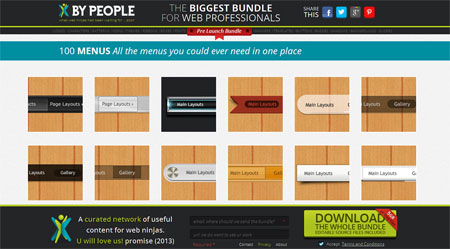 Icons, logo templates, toolbars, menus, patterns, Photoshop brushes, effects, badges, buttons, box effects, ribbons,… you can name pretty much anything a graphic or web designer may need and it will be in the ByPeople bundle.
ByPeople is a curated network of useful content for web professionals that will see the lights in 2013. To help you wait before the launch, they offer a huge bundle of graphic files. You get 5Gb of freebies, enough to create yourself a good digital toolbox.
So what are you waiting for? Get your bundle now!

Design daily news