Getting a logo designed for your business can be a dauntingg task. There are a million factors to think about:
Who do you get to design your logo?
How do you want your logo to look and feel?
What personality should the logo convey about your brand?
Where will the logo be used?
However, compared to the days when hiring a design agency or freelance design consultant were the norm, in 2014 you can now create a logo contest on a crowdsourcing site such as DesignCrowd. Logo contests and crowdsourcing allow you to get the benefits of a huge pool of highly skilled logo designers from around the world, with different creative talents and ideas.
Getting the most from a logo contest comes down to creating a logo contest which gives designers the best chance to meeting your brief while allowing them to use their creativity to design a logo that is both inspiring and resembles your brand values, products and services.
So, to create a logo contest and get amazing results for your business, just follow these simple steps:
Think About Your Brief
Creating a design brief isn't as easy as putting down some logos that you think look good. You need to ask yourself a few questions and convey the answers to the designers. Make sure to think about your business products or services, your company values, how you would like customers to see your brand and obviously any logos which inspire you!
When you write the logo contest brief you need to be explicit and concise. Let designers know when they have freedom to use creativity (such as flat vs 3d design) and when they need to follow strict guidelines (such as colour or shape). This enables designers to create an amazing logo that meets the brief from the get go.
Provide Constructive Criticism and Feedback
Using the logo design crowdsourcing model means you'll sometimes receive over 100 design concepts from designers all around the world based on your brief. Wading through the designs and picking the gems can be a tedious process (but is often the best part!). A common outcome we see from logo design contests is that customers will skip designs which meet the criteria, however are not exactly to their liking. In some instances, these designs can be the best!
It's worthwhile looking at all the designs, thinking about the colour, layout, font and general feel. Could you tweak elements of the design to make it meet your requirements? If so, take the time and effort to provide this feedback to designers – they are happy to receive feedback and would rather put the work in to create a design you'll love that to be eliminated completely from the contest without any reason.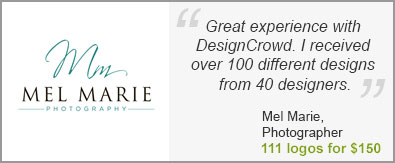 Picking a Winner
The most common outcome from a creating a logo design contest is single logo which stands out from the crowd. The design often meets all the requirements of the brief and matches perfectly with the customer's tastes. As a customer however, make sure you consider your customers when making that final decision – although you're a logo meets your taste, is it going to mean the same thing to your customers. Get feedback from friends and family, from co-workers and acquaintances to help you make that decision. As external parties, they will provide valuable input.
Additionally, take into account how the designer was to work with. Did the designer understand your requirements and interpret your feedback well? If so, they are likely going to be a good match for you for future projects and will be able to provide a very efficient design process. This should also be considered when picking the winner of the logo design contest.
By following these 3 simple steps, you can create a logo contest, review the design and pick a winner which will amaze not only you, but your customers and potential customers.
Need a logo design?
Create a Logo Contest Today …
Get 50% Off Design Posting Fees, Start Now!


Fuel Your Creativity